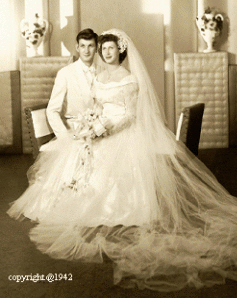 At Lewis Portraits our family has provided professional photography for the metro Detroit area and most of lower Michigan since 1937 – nearly 80 years of service! We particularly specialize in wedding photography at reasonable prices; coverages start from $499. Competitive bids are always welcome. Some of our past weddings have included Detroit Tiger baseball players, local TV station newscasters, Mr. Mike Ilitch Jr. of the Detroit Red Wings and Little Caesars Pizza, etc. We have photographed thousands of events over our nearly eight decades of being in business. Most packages include a CD* (digital files) of all images creatively captured and then carefully edited for optimal presentation. Internet photo viewing and picture ordering is available. Your photos can be shipped directly to you.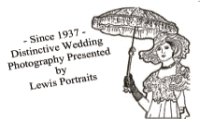 Other services offered include: expert photo restorations, religious celebrations (communions, bar/bat mitzvahs, etc.), family portraiture, business seminars/commercial photography, pets, sports, fundraisers, internet website photos, videography, photobooths, and much more. We can also create a custom coverage package just for you and bundle our various services together at a discount.
Gift certificates are available!
Evening and weekend appointments are available. There is a private no-fee parking lot right next to our beautiful Birmingham building for your convenience. References are available upon request.
Thank you for considering Lewis Portraits for all your photography needs.
Charles (Chuck) Lewis, Owner
Please note: Deposits are non-refundable.
We got married at the end of June and within about 2 weeks our pictures were up and ready to be ordered. We ended up with many, many pictures from our day, all of which were fantastic, and we really liked our photographer, Greg, he did a great job! Mr. Lewis was very accommodating and was willing to work with us to make us happy. Not only did he meet our expectations, he went above and beyond on more than one occasion. We also got a video from him, and we could not imagine it being any better. If you're looking for a wedding photographer and/or videographer, look no more, Lewis Portraits does a great job and it's a great value as well.
Angie B.
Excellent Photography at Great Prices I hired Lewis Portraits to photograph my daughter's wedding in St Clair Shores, MI. The wedding happened to be scheduled on December 19, a day which also brought a particularly bad snowstorm. Our photographer was on time and did a terrific job of photographing my daughter's wedding. The quality of the portraits was superb and the price and service were excellent. Lewis photography has been a family run business for many years and their commitment to quality and customer satisfaction shows it.
Mr. D. Krugler
Chuck is a wonderfully creative and enthusiastic photographer. Both projects he did for us turned out beautifully. Highly recommend him!
Mary E.
A wonderful company! I just received our wedding pictures and they are just lovely! Our photographer Greg did an excellent job of making sure he got all the needed shots, and even asked before he left if there were any pictures we still wanted taken. The pictures look very natural, but professional. We got the pictures back in less than one month from our wedding date! A fantastic service and a great price. I will tell all my friends and family about Lewis Portraits. Thank you Mr. Lewis and Greg!
Mrs. L. Kleiner
I took a photo of my Uncle that was taken in 1944 in England while he was in the Army to Chuck to see it it could be restored. It had been damaged by sewer water when my basement flooded this past Summer. Chuck did an amazing job with this photo. Better than I would have thought possible. I will be sending copies to my cousins for Christmas. I have several other old photos that were also damaged during the flood that I will be taking to Chuck. I will highly recommend him to anyone in need of photo restoration or a photographer.
Pam S.
The work done on my very old, and in extremely poor shape photos was excellent! My father in law says the photos look better than the original taken 60 years ago.
Sue S.